2019 Show Information Below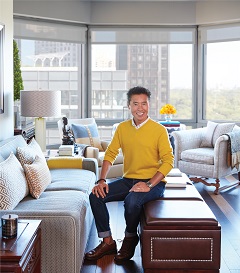 Vern Yip
One room at a time, Vern Yip is designing his way across America, having knocked down walls and made over countless homes and restaurants during his four seasons on TLC's Trading Spaces and during his over ten years as one of HGTV's most recognizable designers. Vern has spread the word on digital home makeovers through AOL and worked hand-in-hand with companies such as Microsoft, Procter & Gamble, Kraft, Newell Rubbermaid, Delta, and Porsche. His award-nominated national commercial for the AT&T U Verse Wireless Receiver aired during some of America's most watched programs, including the 2012 Super Bowl and the 2012 Grammy Awards. In spring of 2013, Diet Pepsi partnered with Vern to release a limited edition Vern Yip can, making him the only interior designer to have ever had his own signature can. Vern just completed over three years with Home Shopping Network (HSN) where he spearheaded the Vern Yip Home line of home décor and still holds the record for most number of sheet sets sold in a single day by a designer brand. Recently, Vern launched the Vern Yip Premium Home Fragrance Collection available through gift and specialty retailers nationwide. In January, Vern launched the Vern Yip for Trend Home Fabric and Trim Collection in partnership with Fabricut. January also saw the premiere of Vern's newest product collaborations which include a line of lighting with Stonegate Designs by AFX and a Home Décor and Accessory collection distributed through OneCoast to retail at brick and mortar gift and specialty retailers nationwide. And Vern has already begun designing the second iteration of his very successful home fabric and trim line with a projected debut in 2017.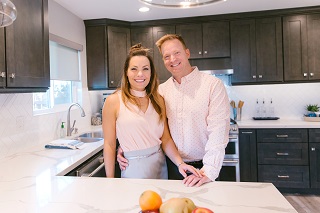 Desert Flipppers
Eric and Lindsey Bennett have been transforming outdated Palm Springs, California properties for more than a decade. Originally from the Midwest, the property power couple moved across the country in 2006 to pursue their dream of building a real estate empire. They started with nothing and have built their business together, in just 10 short years, selling real estate, originating loans, acquiring rental property and flipping over 100 homes. Eric and Lindsey want to share their success by educating and inspiring others to get in the game of real estate investing and renovation. You may know them from the hit HGTV's DESERT FLIPPERS. Since 2015 the property power couple have been hosts of their own HGTV show. Eric, a savvy real estate entrepreneur and financier; Lindsey, a construction planner, manager and designer. In each episode Eric and Lindsey bravely defy triple-digit desert heat and renovate dilapidated homes while raising three rambunctious small children. Pair Eric's flirtatious humor with Lindsey's adoring girl-next-door charm and there's rarely a dull moment. Juggling diapers, demo's, date night and everything in between, this humble duo keep their hands and hearts full. It's rare to find a dynamic duo like Lindsey and Eric willing to take the time to educate and share the ins and outs of the real estate business.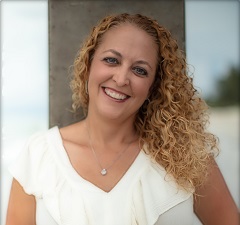 Andrea Cahill
Andrea Cahill, the
Business Development Manager
for SunSource Homes, has been in the renewable energy industry for over for 5 years and has sold over 5 megawatts of solar. She's passionate about educating residential and commercial property owners about how they can save money and reduce costs by converting to clean, renewable solar energy. Andrea's excitement for solar is infectious as she promotes the message of choosing clean energy for better living. Andrea was professional wedding photographer in Kansas City and photographed over 400 weddings before she fell in love with solar.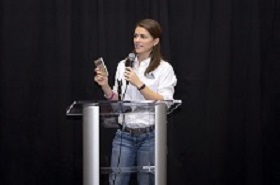 Chelsey Lauer
Chelsey Lauer is the Founder & CEO of JLB Simplify Professional Organizing. Naturally drawn to organizing, Chelsey was the one to call when her family or friends needed help. However, as her family grew to 5, she noticed her home was becoming more unorganized and cluttered. Regardless of how good she was at helping others get organized, she found herself to overwhelmed to even start. Disorganization is often a product of the emotions involved, the physical work required, and the lack of time needed to get organized. She wanted to create an organizing service that catered to others like herself; people who found themselves knee deep in stuff due to life changes. After getting certified as a professional organizer she opened JLB Simplify and designed the service and the organizing method used by JLB organizers to reduce the stress that comes with the organizing process. Her goal is to help others realize we are all human and all struggle from time to time and that organizing is a skill you can learn to be better at. The JLB Simplify 4-Step Organizing method is broken down into 4 easy and clear steps, which focus on reducing stress as well as tips on how to make decisions about your belongings. If you are interested in learning more about the JLB Organizing Method please visit: http://www.jlbsimplify.com/diy-organizing-booklets--videos.html. To save 50% off your entire order use the promo code KCREMODEL at check out.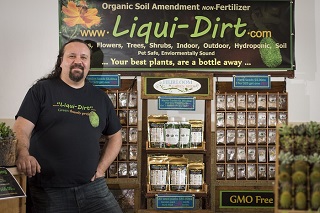 Cory Sackett
Cory Sackett, founder of
"Liqui-Dirt"
.
(If we do the right things, for the right reasons, greatness will be at our feet.)
My Life goal has always been to make a difference. A difference that will truly change lives. The passion behind
"Liqui-Dirt"
comes from family and the bonds that are created with friends. I care deeply for my environment and want to protect the very thing that gave us life. We only have one world and we are all a part of it, which is why I take an active roll in doing my part to repair the damage that has come from generations of neglect. This set of core values are the foundation for
"Liqui-Dirt"
.
My goal is to naturally and cost effectively rebuild ecosystems and continue to develop better ways of producing healthier plants around the world. I use ethics, hard work and knowledge from around the globe to bring this into every product by Liqui-Dirt.
In creating Liqui-Dirt, I hope to inspire you and your family to come together, plant a garden, watch it grow, laugh, and have fun. It is the love for the harvests we prepare, that brings the biggest smiles to everyone.
This truly is one of the most crucial reasons I have created this nutrient. Seeing first hand the sense of joy gardening can bring. There is just something about growing from a seed into a lush plant and what it can do to repair lives. This testament of togetherness creates the stories and traditions that are passed down through the ages becoming the stories of our families.
Liqui-Dirt can repair the very nature of all growing areas and materials.
"It is truly unlike any other product"
. Rather than short gained results this has the ability to restore the very plants, trees and ecosystems, that drive the circle of life. Liqui-Dirt rejuvenates the ground even from a natural disaster or in leached soil from flood and or fire.
Made from the best natural ingredients and hundreds of years of tried and true knowledge from my family and farmers from around the world, I've condensed this down to the basis for the
"Liqui-Dirt"
formulation. It truly is a full nutrient for your planted areas not just gardens but anywhere plant life is not growing well.
Taking time to think of my own family, friends and the joy that is surrounded by a simple garden inspires me to do even more. This is what drives me to provide the best products with all the benefits of natural organic ingredients. Better food in our bodies equals a better way of life, full of the joy spent with family and friends. Together with our hands in the ground we can grow a new generation of family traditions and the respect for our environment can be cultivated.